Bathmate HydroMax X40 Penis Pump Extender
HYDROMAX X30 is a revolution in hydropump technology. With the same attributes as the rest of the Hydromax X-series, the X40 has 35% more power than the original Hercules. This model is recommended for a user whose penis is between 7 and 9 inches in length. Also known as a dick pump, willy pump, or vacuum pump for men, these these water pumps are the most powerful penis pumps on the planet! Using water (instead of air) as the driving force behind shaft expansion, it's easy to grow your pleasure rod quickly while enjoying your daily shower or bath!

We stock the Bathmate Hydromax X20, X30, & X40. Be sure to check the size chart below to purchase the recommended size to suit your needs: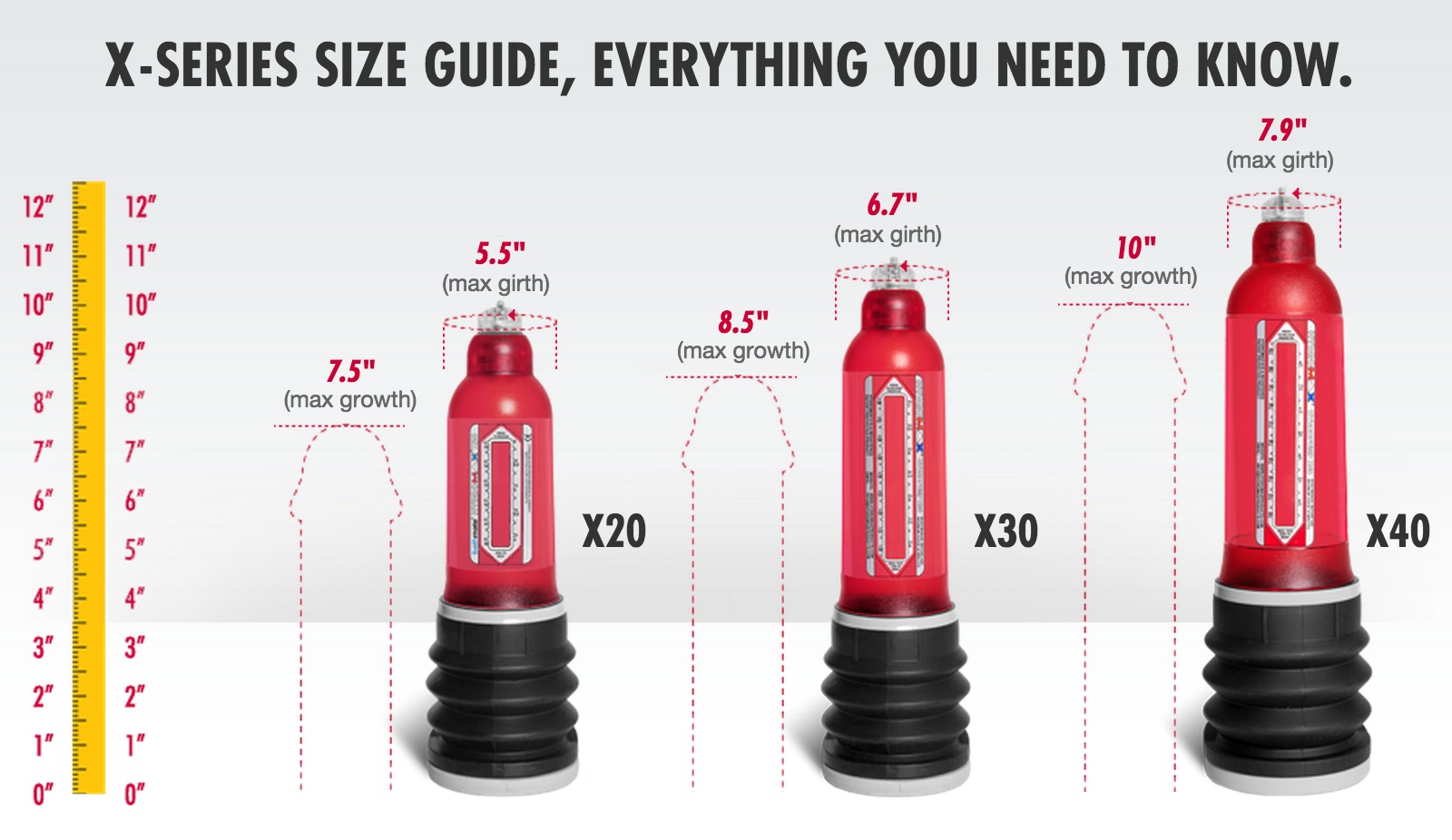 Upgrades from the Hercules are 35% more power, due to a new state of the art material for the bellows. The Bellows now swivel to give complete 360 degree view of the penis while in use. The internal width is greater and bellows convolutes are larger to house more girth.
Other improvements include:
A long insert comfort pad gives increased comfort and greater support around the base of the penis (removable for easy cleaning). The addition of a Super Flow Latch Valve system allows for single hand filling of the vessel in the shower. The textured vessel at the top and base of the pump gives better control through more grip.

The X40 was the latest addition to the Hydromax X-Series as demand rapidly increased for a pump to accommodate men with penises between 7 and 9 inches.

A new Super Flow Latch Valve system allows for single hand filling in the shower, making using and positioning the hydropump much easier for you. A new metric and imperial guidance scale gives you improved visual viewing area, plus upper and lower texturing on the vacuum tube for better grip and control.
- Fast Shipping Everywhere in Australia (24hr dispatch)

- Shipped same day or next business day guaranteed for all sex toys.
- Dispatched from our closest warehouse:
- Queensland (Brisbane, Cleveland)
- New South Wales (Sydney, Strathfield)
- Victoria (South Melbourne)
- South Australia (Adelaide, Norwood)
- Western Australia (Perth, Balcatta)
- Northern Territory (Darwin, Winnellie)



Bathmate HydroMax X40 Penis Pump Extender