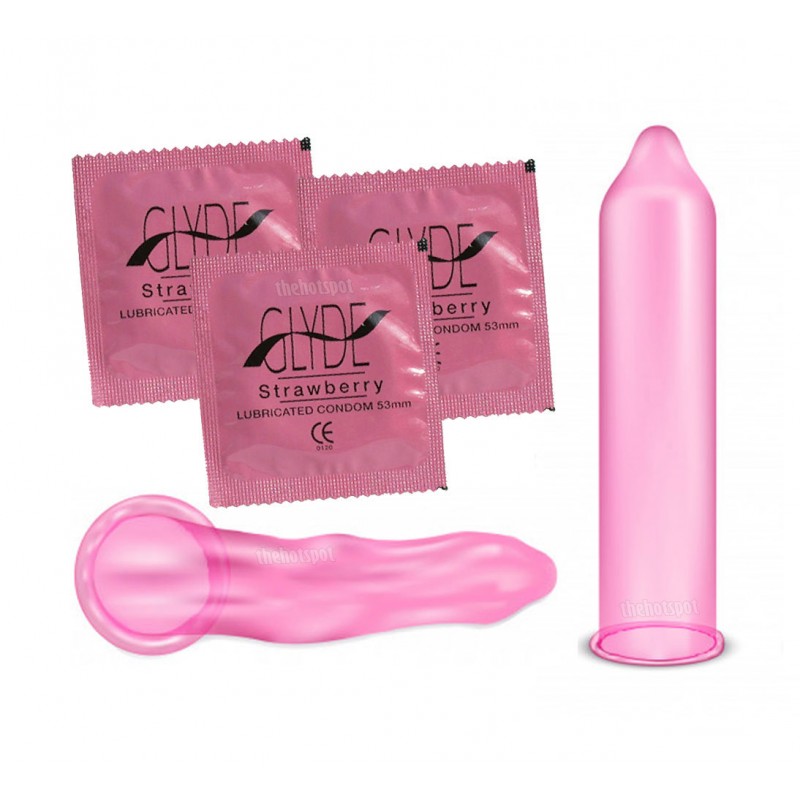 Glyde Strawberry Flavoured Condoms with Lubricant
Glyde Strawberry Lubricated Latex Condoms are manufactured from the highest quality natural latex to the most exacting standards. The exclusive, patented "double dipping", double washing manufacturing process makes our condoms especially strong without increasing the thickness, thereby creating a sheer, ultra-fine sheath. In addition, Glyde's exclusive double wash process eliminates any unpleasant latex rubber taste or smell.
Many condom brands worldwide claim their latex condoms are the thinnest available. Latex condoms are measured in microns. 1 micron = 1/1000th of a millimetre. That's so tiny, it's microscopic!

At 55 microns, Glyde believes, and is supported by its manufacturing experts, that its condoms are as thin as a condom can be without compromising strength.

And because Glyde condoms contain no animal by-products, they are suitable for vegans to use.
- Fast Shipping Everywhere in Australia (24hr dispatch)

- Shipped same day or next business day guaranteed for all sex toys.
- Dispatched from our closest warehouse:
- Queensland (Brisbane, Cleveland)
- New South Wales (Sydney, Strathfield)
- Victoria (South Melbourne)
- South Australia (Adelaide, Norwood)
- Western Australia (Perth, Balcatta)
- Northern Territory (Darwin, Winnellie)



Glyde Strawberry Flavoured Condoms with Lubricant