THE HOT SPOT - LADIES SILVER SEX TOY MEGA PACK 1
Over $200 worth of value!
Choosing toys to spice up your sex life can be a difficult job. Especially when there are so many to choose from. Why choose one when you can get a mega pack of toys!
Here at the thehotspot we have quality sex toys that will satisfy your wildest fantasies, including everything that tickles, vibrates, licks, sucks, tightens, prolongs, and amplifies!
Our mega packs allow you to get a big variety of sensational toys and experiences, for a fraction of the price you would pay if bought individually!
They are great for birthday, Christmas, and Valentines Day gifts for partners, or just to treat yourself!
Our packs cater for all sexual preferences: Solo men, Solo Women, Girl / Guy Couples, Girl / Girl Couples, Guy / Guy Couples, and Bondage Packs.
They also cater for all budgets, starting with Bronze Packs, then going up to Silver, Gold, Platinum, and Diamond Packs!

This listing is for Solo Ladies.
Check them out, we guarantee you'll find something to suit with unbeatable prices!


Check out our other Sex Toy Mega Packs >>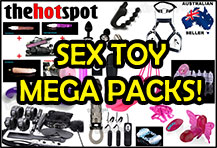 Note: Click on product images below for detailed product information.
Ladies SILVER Mega Pack 1 - Over $200 worth of value!

12 speed rabbit vibrator. Vibrating shaft for vagina and G-Spot stimulation. Vibrating rabbit for clitoris stimulatoin. 2 x AA batteries (not included). Random colour will be sent (pink, yellow or purple).
Also known as Ben Wa balls. Weighted balls worn inside the vagina. Train pelvic muscles. Increase sexual sensation. Start off "large and light". As muscles increase move to "small and heavy". 1 single and 1 double kegel balls will be sent.
High quality. Powerful. Super speed motor, 11000 cycle / min. Compact and Portable. 8cm x 1.7cm. Batteries included.
7 Inches (17.5cm) long, Battery operated (2 x AA not included). Random colour will be sent.
Wearable vibrating egg. Discreet. Wireless remote control looks like an iPod Shuffle. Up to 10m remote operation. 20 Functions modes of vibrations. Waterproof. 2 AA batteries (not included). Size of egg is 7.5 x 3.5 cm. Random colour will be sent (black, pink, blue).
Powerful 7 speed vibrator. Vibrating arms surround clitoris for intense pleasure. 1 x AAA batteries (not included).
2 Nipple & clitoris vacuum suckers. Place suction cup on to the desired area. Twisting clockwise for suction. Twist counter clockwise to release. Engorge the clit or nipples with blood to increase sensitivity and stimulation.
- Fast Shipping Everywhere in Australia (Same day dispatch)

- Shipped same day (before 2pm) or next business day guaranteed for all sex toys.
- Dispatched from our closest warehouse:
- Queensland (Brisbane, Cleveland)
- New South Wales (Sydney, Strathfield)
- Victoria (South Melbourne)
- South Australia (Adelaide, Norwood)
- Western Australia (Perth, Balcatta)
- Northern Territory (Darwin, Winnellie)



Ladies Silver Pack 1 Sex Toy Mega Pack