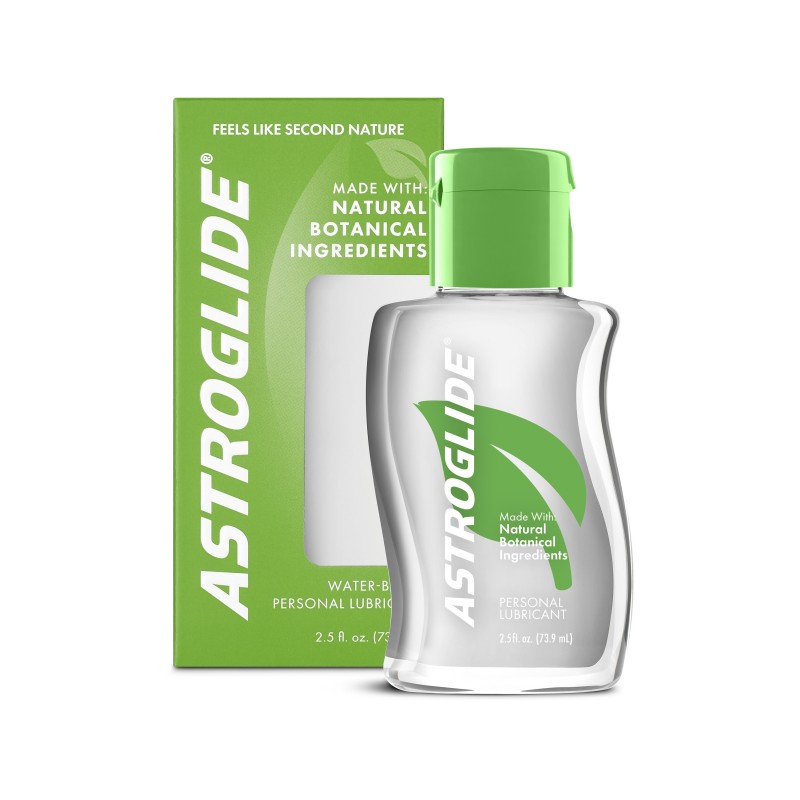 Astroglide Natural Personal Lubricant - 73.9ml Bottle
For those who like to go au-naturel, our formula is not made with glycerin, parabens, fragrances, flavors or hormones. Packed with soothing botanical ingredients like aloe vera, chamomile and pectin (from fruit), just a touch of this lubricant feels like second nature. For those with vaginal dryness, Astroglide works just like our original formula to soothe and hydrate.
Astroglide's trade secret formula is soothing, moisturizing and long lasting. The personal lube provides the highest level of slipperiness and retains its lubricating property for hours without irritating the skin or leaving residue. It doesn't develop a rough, gritty feeling or become sticky. No other personal lubricant provides the same level of comfort, ease of use and natural feel.
Anyone who wants to take their sex life up a notch! Let's face it when it comes to sex, wetter is better. Astroglide Natural Personal Lubricant allows couples to ramp up their pleasure, and our latex-safe water based lubes and silicone lubes make condom use safer and more pleasant. You can use it to help ease into a new sexual position, or to add heat and flavor to your sex life. Women can use Astroglide not only as a personal lubricant, but also to help relieve vaginal dryness.
Astroglide Natural Personal Lubricant does not contain fragrances, colorings or other ingredients that are common irritants. However, any topical product can cause irritation. If you feel that you may be sensitive to one of the ingredients, test the personal lubricant on a small patch of skin. If irritation occurs, discontinue use.
Product Features:
All-natural and botanical personal lubricant
Water soluble and latex safe
Soft, smooth, long lasting and also a moisturizer
Glycerin & Parabens free
Alcohol & Fragrance free
Flavorings & Hormones free
Ingredients: Purified water, Xylitol (from spine of corn cob - derived xylitol is a naturally derived, sugar-free humectant known to help retain and absorb moisture), hydroxyethylcellulose (made from plants), pectin (from fruit), Barbadensis Leaf Juice / Aloe Vera , Vitamins C & E from natural extracts, Lactic Acid, Chamomile (Anthemis) Flower Extracts , Phenoxyethanol (organic compound). It is the best lubricant for vaginal intercourse for people with sensitive skin or sensitive to chemicals as it is made with natural and organic derived ingredients with no synthetic and no artificial ingredients. Alcohol free. GMO Free.
- Fast Shipping Everywhere in Australia (24hr dispatch)

- Shipped same day or next business day guaranteed for all sex toys.
- Dispatched from our closest warehouse:
- Queensland (Brisbane, Cleveland)
- New South Wales (Sydney, Strathfield)
- Victoria (South Melbourne)
- South Australia (Adelaide, Norwood)
- Western Australia (Perth, Balcatta)
- Northern Territory (Darwin, Winnellie)



Total Reviews (13)
click here write review to add review for this product.
Astroglide Natural Personal Lubricant - 73.9ml