THE HOT SPOT - COUPLES SILVER SEX TOY MEGA PACK 1
Over $300 worth of value!
Choosing toys to spice up your sex life can be a difficult job. Especially when there are so many to choose from. Why choose one when you can get a mega pack of toys!
Here at the thehotspot we have quality sex toys that will satisfy your wildest fantasies, including everything that tickles, vibrates, licks, sucks, tightens, prolongs, and amplifies!
Our mega packs allow you to get a big variety of sensational toys and experiences, for a fraction of the price you would pay if bought individually!
They are great for birthday, Christmas, and Valentines Day gifts for partners, or just to treat yourself!
Our packs cater for all sexual preferences: Solo men, Solo Women, Girl / Guy Couples, Girl / Girl Couples, Guy / Guy Couples, and Bondage Packs.
They also cater for all budgets, starting with Bronze Packs, then going up to Silver, Gold, Platinum, and Diamond Packs!

This listing is for Solo Ladies.
Check them out, we guarantee you'll find something to suit with unbeatable prices!


Check out our other Sex Toy Mega Packs >>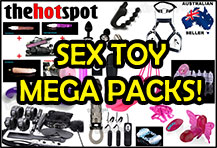 Note: Click on product images below for detailed product information.
Couples SILVER Mega Pack 1 - Over $300 worth of value!

Double vibration drums stimulate the clitoris, penis, anus and testicles all at the same time! Ultra stretchy. Wear it either in front of the testicles OR stretch it over the back of the testicles. Batteries are included.
Nylon strapping. Strong and durable. Quick release velcro straps. Easy to setup and take off. Once set up your slave will be going nowhere!
Designed to be inserted into the vagina and pressed against the clitoris simultaneously on your own OR DURING SEX! 19cm around. Waterproof. 10 Speeds. USB Rechargeable. Medical Grade Silicone. Powerful but quiet. Random colour will be sent (Purple or black).
Deep throat training device. Stretch the mouth. Train gag reflexes. Keep those nasty teeth away! Silicone. 4cm opening.
Vibrating bullet has a simple on/off switch on the end. Easy to put on. Soft and stretchy. Can be worn up side or upside down. Quiet when being used. Batteries included.
Tie them up, tie them down, tie them all around. This shiny PVC tape only sticks to itself, so it does not pull hair or leave any sticky residue, and is skin safe. It's easy to use and visually stunning, with a great shine. 15m long x 5cm wide. Non Stick PVC. Ultra Strong.
Extend your penis without physically changing your penis! Reusable. Soft silicon. Aids in delaying ejaculation and extending the size of the erection. Random colour will be sent (clear or purple).
Add some mystery in the bedroom. Quality PU leather. Soft suede-like backing for extra comfort. Elastic attached with chrome studs. 20cm x 7cm.
High quality. Powerful. Super speed motor, 11000 cycle / min. Compact and Portable. 8cm x 1.7cm. Batteries included.
7 Inches (17.5cm) long, Battery operated (2 x AA not included). Random colour will be sent.
- Fast Shipping Everywhere in Australia (24hr dispatch)

- Shipped same day or next business day guaranteed for all sex toys.
- Dispatched from our closest warehouse:
- Queensland (Brisbane, Cleveland)
- New South Wales (Sydney, Strathfield)
- Victoria (South Melbourne)
- South Australia (Adelaide, Norwood)
- Western Australia (Perth, Balcatta)
- Northern Territory (Darwin, Winnellie)



Couples Silver Pack 1 Sex Toy Mega Pack