The Hot Spot - Gay Mens Couples Gold Sex Toy Mega Pack 1
Over $300 worth of value!
Choosing toys to spice up your sex life can be a difficult job. Especially when there are so many to choose from. Why choose one when you can get a mega pack of toys!
Here at the thehotspot we have quality sex toys that will satisfy your wildest fantasies, including everything that tickles, vibrates, licks, sucks, tightens, prolongs, and amplifies!
Our mega packs allow you to get a big variety of sensational toys and experiences, for a fraction of the price you would pay if bought individually!
They are great for birthday, Christmas, and Valentines Day gifts for partners, or just to treat yourself!
Our packs cater for all sexual preferences: Solo men, Solo Women, Girl / Guy Couples, Girl / Girl Couples, Guy / Guy Couples, and Bondage Packs.
They also cater for all budgets, starting with Bronze Packs, then going up to Silver, Gold, Platinum, and Diamond Packs!

This listing is for gay solo men and couples.
Check them out, we guarantee you'll find something to suit with unbeatable prices!


Check out our other Sex Toy Mega Packs >>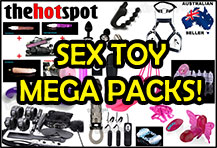 Note: Click on product images below for detailed product information.
Mens RAINBOW GOLD Mega Pack 1 - Over $300 worth of value!

Extend your penis without physically changing your penis! Reusable. Soft silicon. Aids in delaying ejaculation and extending the size of the erection. Random colour will be sent (clear or purple).
Nylon strapping. Strong and durable. Quick release velcro straps. Easy to setup and take off. Once set up your slave will be going nowhere!
Prostate plug with penis ring. Powerful ejaculations. Silky smooth silicone.
5.5 inches / 14.5cm long. 10.5cm insertable. 3.5cm wide cock. Can be used in a strap on harness. Colour: purple crystal. Solid silicone dildo.
Black silicone anal plug. Smooth teardrop bulb and narrow neck. Easy to insert. Comfortable to wear. Gorgeous coloured jewel. All 3 sizes, with random colour jewel will be sent.
6 speed vibrations. Flexible shape holding shaft. Jelly like silicone. 3 x AAA batteries (not included). 270mm long. Random colour will be sent (pink or purple).
2 rings. Wrap around penis and testicles simaltaneously. Phthalate Free silicone.
10 vibration modes. Silky smooth silicone. Waterproof. 1 AA battery (not included).
Double vibration drums stimulate the clitoris, penis, anus and testicles all at the same time! Ultra stretchy. Wear it either in front of the testicles OR stretch it over the back of the testicles. Batteries are included.
Thermoplastic rubber that will have the blood flow to your erection and stay there for longer! 3 stretchy silicone cock rings. Small stretches 1.6 - 3 inches. Medium stretches 1.8 - 4 inches. Large stretches 2 - 5 inches. Seam-free.
Soft medical grade silicone. 4 x flush holes in tip for a thorough cleanse. Unscrews for easy refilling and thorough air drying between use. Easy to clean.
- Fast Shipping Everywhere in Australia (24hr dispatch)

- Shipped same day or next business day guaranteed for all sex toys.
- Dispatched from our closest warehouse:
- Queensland (Brisbane, Cleveland)
- New South Wales (Sydney, Strathfield)
- Victoria (South Melbourne)
- South Australia (Adelaide, Norwood)
- Western Australia (Perth, Balcatta)
- Northern Territory (Darwin, Winnellie)



Gay Mens Couples Gold Pack 1 Sex Toy Mega Pack