THE HOT SPOT - MENS BRONZE SEX TOY MEGA PACK 1
Over $75 worth of value!
Choosing toys to spice up your sex life can be a difficult job. Especially when there are so many to choose from. Why choose one when you can get a mega pack of toys!
Here at the thehotspot we have quality sex toys that will satisfy your wildest fantasies, including everything that tickles, vibrates, licks, sucks, tightens, prolongs, and amplifies!
Our mega packs allow you to get a big variety of sensational toys and experiences, for a fraction of the price you would pay if bought individually!
They are great for birthday, Christmas, and Valentines Day gifts for partners, or just to treat yourself!
Our packs cater for all sexual preferences: Solo men, Solo Women, Girl / Guy Couples, Girl / Girl Couples, Guy / Guy Couples, and Bondage Packs.
They also cater for all budgets, starting with Bronze Packs, then going up to Silver, Gold, Platinum, and Diamond Packs!

This listing is for Solo Men.
Check them out, we guarantee you'll find something to suit with unbeatable prices!


Check out our other Sex Toy Mega Packs >>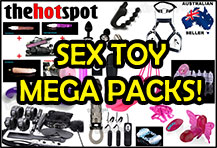 Note: Click on product images below for detailed product information.
Mens BRONZE Mega Pack 1 - Over $75 worth of value!

Penis pumps increase the amount of blood flow to the penis, enlarging the size and girth. Gain harder, bigger erections. Enhances erections quality. Use for 10-15 min at a time. Comes with 3 sleeve sizes.
Very strong vibratrion. Vibration controller (very slow to very fast). In a plastic Flashlight-like tube to keep it discreet. Ultra soft TPE material. 3 x AAA batteries (not included).
Insert into pocket pussy to pre-heat to the same temperature as a real vagina! USB powered. Easy to use. Compatible with all silicone and TPE pocket pussies. Thermostat to control precise heating.
- Fast Shipping Everywhere in Australia (Same day dispatch)

- Shipped same day (before 2pm) or next business day guaranteed for all sex toys.
- Dispatched from our closest warehouse:
- Queensland (Brisbane, Cleveland)
- New South Wales (Sydney, Strathfield)
- Victoria (South Melbourne)
- South Australia (Adelaide, Norwood)
- Western Australia (Perth, Balcatta)
- Northern Territory (Darwin, Winnellie)



Mens Bronze Pack 1 Sex Toy Mega Pack